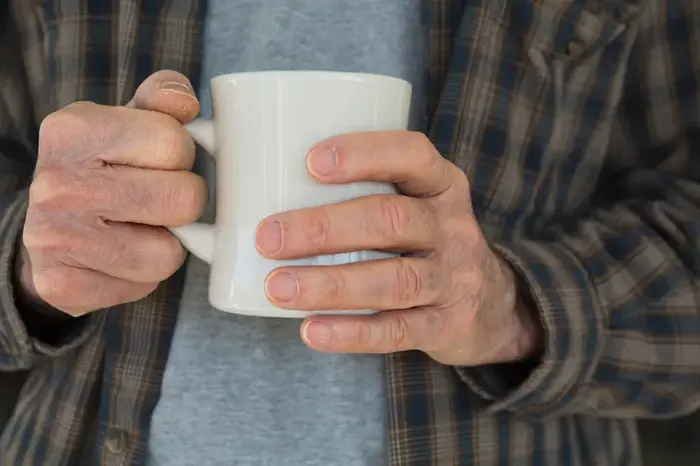 It finally feels like we're leaving winter behind us. As the weather changes, it's time to uncover our bodies and focus on the skin that we've neglected during the colder months.
Winter weather can dry out your skin as humidity can drop, leaving it looking dull and feeling rough. Cold and dry weather makes skin's moisture evaporate more quickly which can make your arms, legs and elsewhere dry, tight and flaky. Indoor heating plays a part in drying out our skin too, as do the hot baths and showers we love when the weather's cold.
Hydrating skincare is a must to replenish. Let's give our body some TLC and leave dry skin in winter.
Banish dry skin from your body
First of all, you'll want to start by buffing your skin to remove any dead skin cells and reveal the new skin underneath. We recommend our Energising Calendula Body Scrub to slough away those cells and reveal smooth and glowing skin. It uses Bamboo powder as a natural exfoliant along with vitamin C, Calendula and citrus fruits to support your skin to regenerate itself.
To exfoliate your skin properly, massage into wet skin starting at the feet and moving upwards across your skin. Another fantastic benefit of this is that it stimulates lymphatic drainage and circulation – great for your body and skin. Then rinse well, with warm water rather than hot, to remove any residue or sloughed skin.
Once your skin is feeling smooth, it's time to hydrate it – especially those drier parts of the body like elbows and knees – with a rich, nourishing body moisturiser. Body butter is perfect for replenishing, reviving and replacing lost moisture.
If your skin has a serious case of the winter blues, then go for our Reviving Borage Body Butter to deeply hydrate and brighten your skin with blackberry extract (a rich source of vitamin C to promote skin renewal), Butterfly Bush, echinacea and hibiscus.
Your feet shouldn't be forgotten either, so make sure they get in on the exfoliating action too. They've probably spent all winter tucked away in boots, so it's important that they're tended to as they can really dry out.
Our Repairing Shea Butter is the perfect overnight restorative remedy for dry feet and cracked heels. Simply warm between palms, massage into the skin, paying special attention to the driest areas of your feet then pop on a pair of socks. All you need to do from there is focus on getting a restful night's sleep whilst the shea butter works its magic on your feet overnight. Your feet and nails will feel nourished and hydrated.
You can even add a couple of drops of pure aromatherapy oil (we love tea tree, rosemary, peppermint or eucalyptus to revive and refresh feet) to your shea butter for added self-care benefits.
You might find that your hands, nails and cuticles are a little drier following winter too. Restore moisture, softness and suppleness to dry hands with our Replenishing Echinacea Hand Cream. This intensely nourishing hand cream contains echinacea, hibiscus and punarnava to brighten and moisturise tired, dry or working hands. Bonus: it also minimises the effects of pollution and blue light rays.
Your face can feel the effects of winter too
Weather, heating, hot showers and changes to our diet in winter can all have an effect on our face. Avoid harsh cleansers and face masks or treatments that contain drying ingredients like clay. Focus on hydrating skincare and nourishing products instead. Your skin needs it!
Winter can leave your skin looking dull, rough, reddened and sensitised. If this is your skin post- winter, you need a gentle cleanser like our Soothing Oat Face Cleanser daily. It harnesses the power of prebiotics and removes impurities without causing further irritation or dryness. Oats have been used for centuries to nourish and hydrate the skin – they work!
If you need to slough away dead cells, a gentle exfoliator is key to reveal refreshed and renewed skin. Try our Detoxifying Bamboo Facial Exfoliator to enhance your complexion and leave it feeling smooth. It's cream-based too so won't dry out your skin any further either.
You might want to incorporate a face mask here to add some extra moisture into your skin. We recommend choosing one that contains hydrating boosting ingredients like vitamin C (great for kickstarting collagen production). Our Refining Vitamin C Face Mask is a great choice, it also contains exfoliating ingredients too, so you can skip the separate exfoliation step.
For maximum hydration with minimum irritation, you're going to want to choose a moisturiser that's as good as adding moisture back into the skin as it is calming. Step forward our Replenishing Prebiotic Face Moisturiser – it's anti-inflammatory, comforting and adds hydrating into your skin. If your skin's really feeling dry, add in a face oil to lock in moisture even further.
Your lips can dry out in winter too, leaving them chapped and sore. You can gently exfoliate them along with the rest of your face, then add butter or oil like shea butter to replenish lost moisture and leave them soft and flake-free. Avocado oil is another great hydrator for your lips.
Reduce dry skin next winter
(starting now)
To reduce the restorative work you need to do post-winter, start taking steps to keep your skin in better shape through the colder months now.
A humidifier can help combat drier winter air, and trying to keep artificial heating to moderate levels (as well as those hot, hot showers you love on cold days) can keep your skin feeling great. What you eat and drink will make a difference too, so make sure you're getting a balanced diet all year around.
Finally, the best way to look after your skin is to keep up a consistent skincare routine throughout the seasons. The needs of your skin will change through the year, and it's important to adjust that routine accordingly.
Looking to update your skincare for spring? Check out our routine recommendations to refresh your skincare routine for spring.