Our 160-square-metre manufactory shop is located at Mulackstr. 6 in the heart of Berlin, in the trendy urban shopping district Hackescher Markt. From the moment you enter our shop, you will immediately notice a difference in the atmosphere.
We rely on 100% transparent production:
All products are produced directly in the shop behind glass windows.  
In the process, we use only natural ingredients:
Without a single drop of synthetic additives or preservatives..
So you get really fresh cosmetics:
We make all products by hand in small batches.
Your ownpersonalised formula:
Your skin is unique to you. Following a skin analysis on site, you have the option to create your own personalised natural skincare treatment.  
We believe in a holistic approach:
Developed by food engineers and nutritionists in collaboration with cosmetic chemists, our superfood supplements are designed to boost your health and beauty from the inside out.
We've put together a mix of thoughtful moments for you. From product stories to an independent customer journey through our store. Our health and beauty experts will help you make decisions quickly and effectively.
Curious? Then join us on a little journey through our manufactory store.
Moment No. 1: Shop intuitively at our retail floor space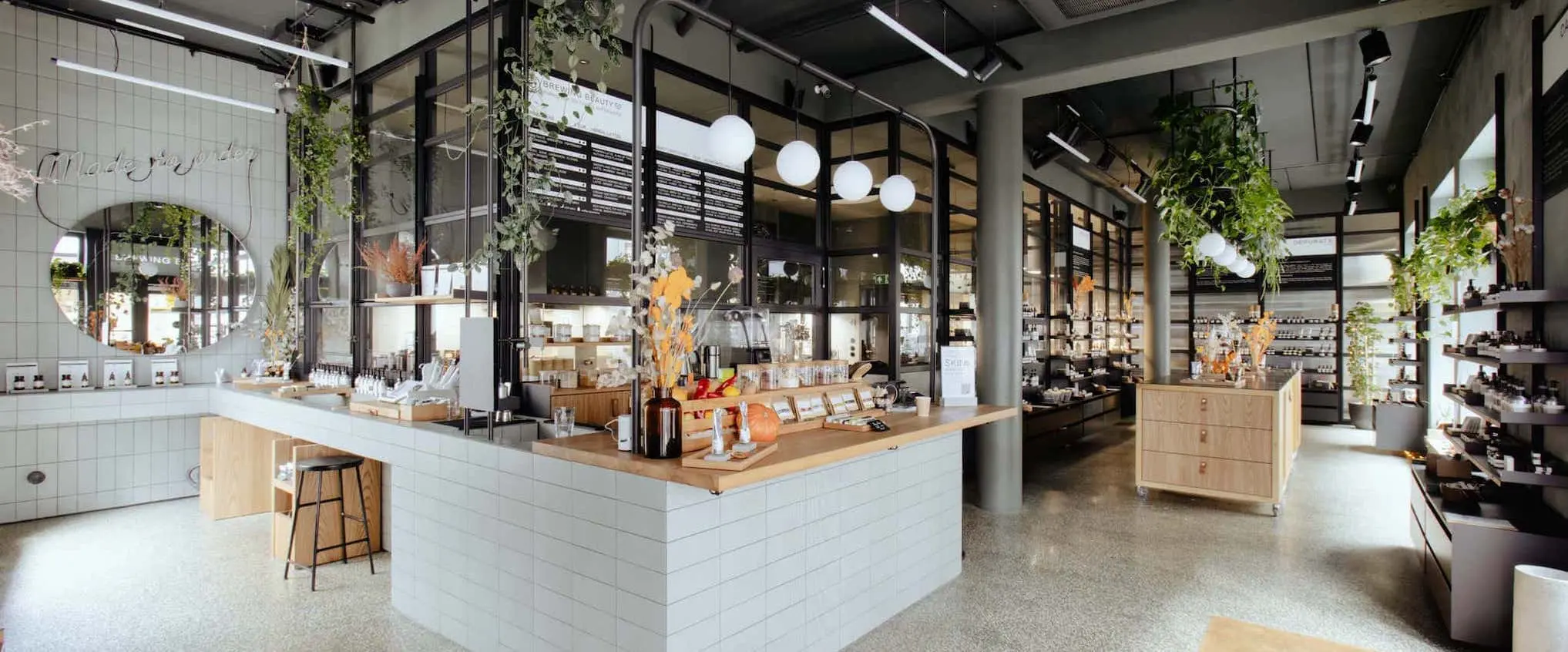 A typical health and beauty store separates its products into categories such as hair care, skincare, etc. Being beauty customers ourselves, we realized that this type of product allocation makes it difficult to identify the best product for your needs. We believe every skin is different with some similarities and the environment as well as the seasonal changes impact what your skin needs. Nature and the environment changes all the time, and so is your skin accordingly.
Then does it make sense to use the same product all year round everywhere you go?
This is why we divided our floor space by skin types, conditions, seasons and lifestyles so that you can easily look for products that can help you without even talking to our beauty experts.
Moment No. 2: Watch us make a fresh batch of cosmetics at our Beauty Kitchen
We built a hygienic small-batch cosmetics and dietary supplements manufacturing facility within our store where you can see how your cosmetic products and dietary supplements are made, tested, extruded, filled and labelled behind the sealed see-through windows.
Our production kitchen may look small in comparison to big label's production facilities, but it is scientifically designed with overall production performance and integrated safety focus conforming with EU's health, safety, and environmental protection as well as Good Manufacturing Practices.
You can easily lose track of time while watching us making a fresh batch of face cream.
Moment No. 3: Get to know your skin at our 'Made to Order' counter
You may not know what skin type you have and how the environment and the seasons impact your daily skin condition. As a result, you may end up buying the wrong products that have limited or no impact on your skin health. We have integrated advanced skin Analysis solutions into all our collections and Made to Order products to help you select the right products for your skin.
Why don't you treat yourself and get your skin analysis this week? Your skin deserves it.
Don't wait! Go ahead and book it now.
Moment No. 4: Make your own cosmetics
If you have some time, you can take home your customised freshly-made skin care product.  In 5 easy steps and in just 45 minutes, you'll have your own personal skin care product, perfectly suited to your skin's needs.
We also offer many of the ingredients we use individually, so you can experiment with them at home. You can buy them in our store or online.
Moment No. 5: Get a Beauty drink at our Beauty Bar
Our beauty bar offers a holistic aspect to the Brewing Beauty experience with an understanding that real beauty comes from within and that healthy skin, hair, and nails are also heavily dependent on your diet. While you wait for your skin care system to be developed for you, or simply to relax, you can stop by our Beauty Bar and try out our smoothie recipes or drinks made from our superfood blends for beauty and health. It is a unique destination for you if you are looking to benefit your well-being and magnify your beauty at the same time through whole foods, superfoods and drinks. The Bar's recipes was curated by food scientists and nutritionists explicitly for the customers looking to magnify the appearance and health of their skin and body, but without the use of pills, toxic potions, and synthetic ingredients.
Don't take our word for it
It is difficult to describe the experience you will have when you physically visit our store. You just need to experience it yourself. Therefore, don't take our word for it, just stop by to witness the difference yourself.
Hope to see you soon!