Nourish your skin with natural milk peptide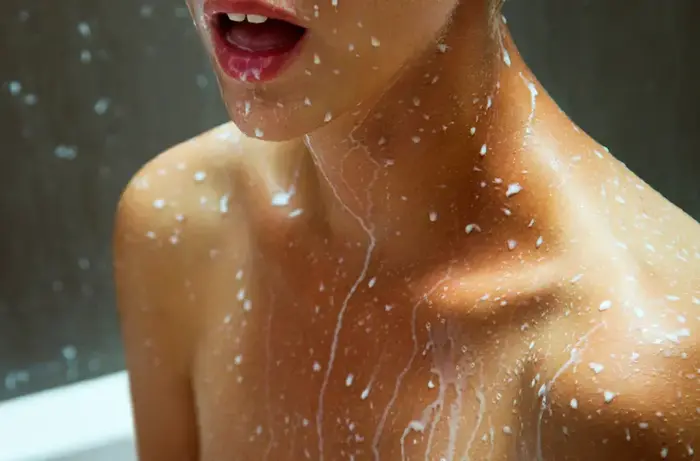 Milk has been used in skin care for thousands of years, for both the face and body. Traditional milk baths were once thought to be the best body treatment, with ancient queens queuing up to bathe in donkey's milk to keep their skin looking youthful and feeling nourished.
In the present, milk baths are out and skincare that harnesses the powerful anti-ageing properties of milk is in. It's an ideal natural ingredient that benefits the skin, plus it's suitable for vegetarians. If you're into skincare, you'll have heard about alpha-hydroxy acids (AHAs) which are used to exfoliate the skin, revealing rejuvenated skin underneath.
But have you heard of milk peptides and what they can do for your skin?
Also known as whey protein, milk peptides are a fantastic ingredient for improving hydration and collagen production. If you know your ingredients, you'll know that both of these are powerful, essential for healthy, nourished skin.
Milk peptides stimulate collagen production, which is needed to keep skin plump, youthful and glowing. As well as collagen, it also stimulates the production of hyaluronic acid on a huge scale. This is a big deal when it comes to hydration and improving the texture of your skin. Both of these are essential for fighting fine lines, wrinkles and rough skin caused by ageing.
Peptides derived from milk are also extremely important for protecting your skin's natural microbiome and keeping it in balance. Using harsh products, the wrong ingredients, our lifestyle and the environment that we live in all take their toll on the natural balance of oils and bacteria on our skin. When this is out of sync, it can leave your skin compromised, damaged and not looking at its best. Keeping your skin in balance is much easier than trying to treat the symptoms afterwards.
Working with your skin is so much better than trying to work against it or forcing it to be something that it's not. Usually, when your skin's microbiome is balanced and in check it regulates itself so that you can benefit from healthy skin without an overly complex, challenging routine.
Our Calibrate range is filled with milk peptides to nourish and hydrate your skin naturally. Let's take a closer look and see how this collection can rebalance and care for your skin's natural microbiome. The entire range uses milk-derived probiotic peptides and organic, natural ingredients to keep skin healthy.
For your body, try the Balancing Baobab Body Cleanser. This creamy cleanser contains both lactic acid and milk peptides derived from cows milk along with cold-pressed Baobab oil, Oat Lipids and Liquorice to cleanse the skin. It leaves skin clean, healthy, soft and glowing. Plus, it's made from 100% natural and vegetarian ingredients.
If your skin is stressed out, inflamed or struggling with uneven tone them it's time to bring in our Calming Probiotic Body Milk. It's exactly what your skin needs to rebalance its microbiome and the number of "good" bacteria that hang out on your skin. It harnesses cold-pressed Prebiotic Baobab Oil, Wild Indigo Seed extract and milk peptide to improve skin lustre. Skin will be left feeling balanced, rejuvenated and more youthful.
Your face can benefit from the power of milk peptides too. Try the Soothing Oat Cleanser. Filled with nourishing prebiotics, milk peptides and oat lipids to cleanse without stripping moisture, this cleanser is anti-inflammatory, boosts the skin's natural defences and is gentle enough to use daily. It promoted calm, clear skin which radiates health.
The Soothing Prebiotic Micellar Tonic Water is another gentle option to cleanse your skin of impurities, especially if you have delicate skin. It's gentle and balanced, whilst still being effective enough to remove tough waterproof makeup and dirt. It contains lactose, lactic acid, milk peptides, Witch Hazel and Wild Indigo.
Another option in the Calibrate range to effectively cleanse your face whilst rebalancing using milk peptides is the Calming Oat Cleansing Milk. Filled with milk peptides, soothing oats, aloe vera and baobab oil to clean, balance and calm your skin. It works hard to soften and harmonise skin while soothing Liquorice and restorative Prebiotics help to reduce inflammation and irritation.
Each of these cleansers is great for creating a balanced, smooth and calm base for the rest of your skincare routine. The next step after cleansing should be toning your face to heal, purify and refresh skin without irritation. Our Calming Probiotic Face Toner. It's filled with prebiotics and probiotics, including milk peptides, that are perfect for soothing irritation and harmonising our complexion. It helps to replenish lost moisture and supports the skin's natural defences, so if your skin is feeling dry or taut, then this is one for you.
After toning, the next step in your routine should be our Replenishing Probiotic Moisturiser. Made with hydrating, skin-calming oats, plant extracts and prebiotics from milk peptides to keep skin hydrated, balanced and radiant. It's a great anti-inflammatory moisturiser to soothe distressed skin and relieve redness. Top of Form
The final step in your routine for balanced, hydrated skin should be a serum, such as our Calming Oat Lipids Face Serum. It's there to restore balance and comfort to distressed skin and is packed with oat beta-glucans, milk peptide and natural oils. Calming complexions and combatting irritation, pre and probiotics repair skin at a cellular level for instant glow and luminosity. The perfect natural remedy for skin that prone to stress, redness and dry areas.
Milk's versatility as a skincare ingredient, along with its natural origins make it an ideal choice for rebalancing your skin's natural microbiome. Its effectiveness is the reason that people have been using it on their skin for thousands of years with beautiful results. It's also been scientifically proven that products derived from milk, like lactic acids and milk peptides, truly benefit the skin. As an ingredient, it's the perfect blend of science, tradition and nature.
Milk peptides help to strengthen the skin's immune responses to stress-causing external influences like pollution and weather. This means a more balanced skin that naturally feels healthier, stronger and more in tune with its natural state of being.