Here comes the sun: Preparing your skin for summer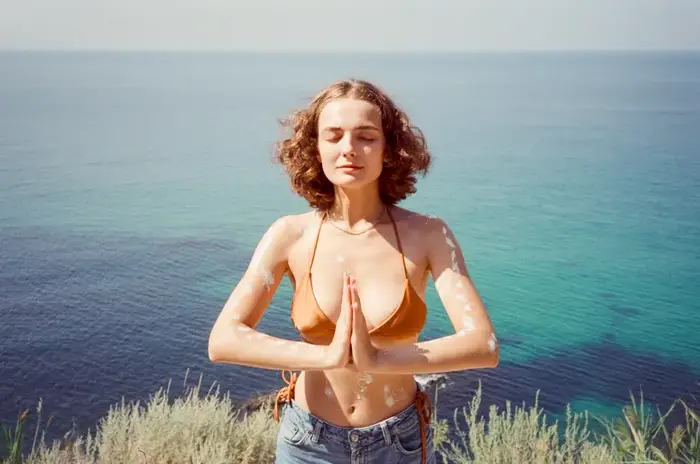 The year continues forward as we move ever close to the summer months. It's time to start a new routine that focuses on the transition from spring to summer, and the changing needs of our skin and our body.
It's also important to consider the impact that our wellness rituals have on the world around us. Mindfulness and being conscious when it comes to our daily life is essential if we truly want to embrace a natural, sustainable life that doesn't cause unnecessary harm to the planet.
Preparing Your Body For Summer
With summer, comes increased temperatures, more sunshine and more time spent in nature. Whether that's swimming, walking, running or just enjoying the fresh air, there are some things to be aware of when you're moving into summer mode:
Stay hydrated – increase your water intake as the weather gets warmer to keep your body, skin, hair and nails in their best condition and avoid dryness. Your body needs water to function, and in the heat, you can lose more than usual, so stay topped up.
Eat more fresh, natural foods – although Spring is the time of growth and Autumn is the time of harvest, Summer is the season when our bodies want to enjoy nature's bounty, and up our intake of fresh fruits and vegetables to get a natural boost of vitamins and minerals.
Adjust to changes in sunrise and sunset – lighter evenings can initially confuse our circadian rhythms and the body's natural clock. Give yourself time to adjust and change your schedule slightly, especially if you're finding it difficult to get to sleep at night or wake up in the morning.
Manage sensitivity to pollen – some people are more sensitive to different types of pollen, which can feel worse as spring and summer progress. People are sensitive to different types of pollen, so keep an eye on the count and keep your skin and eyes covered if you're particularly affected.
Preparing Your Skin for Summer
As well as our body and overall health in summer, we need to pay particular attention to our skin. Sunshine has amazing health benefits, like increasing the vitamin D in our bodies, but it also comes with risks. As the temperature gets hotter, our sun exposure – and the amount of skin we expose – tends to increase.
While this can feel great, the sun's rays can also contribute to premature ageing, sunburn and even skin diseases later on in life. It's important to protect yourself.
Here's what you should do to prepare your skin for summer:
Body exfoliation – for healthy, glowing skin you need to exfoliate and reveal your fresh, renewed skin underneath. Take particular care on dry areas of the body like feet, elbows and knees to remove dead, dull skin. Our Energising Calendula Body Scrub is the perfect tool to wake up your skin with bursts of grapefruit, neroli and mandarin, slough away dead skin and soothe with organic calendula. You should aim to exfoliate your body at least twice a week.
Moisturising your skin – the sun can dry out your skin, as can spending time in the sea or in air-conditioned spaces. Rehydrate your skin (and hair) with our Soothing Shea Butter. It harnesses the natural restorative power of organic shea butter to add moisture and nourishment back into the skin.
Sun protection – protect your skin from the sun's exposure by using products that contain SPF. This is particularly important on your face as the sun can damage the skin causing premature ageing, fine lines and pigmentation – though this can happen all over the body. Sunburn looks just as bad as it feels, so stay safe and cover up where you can.
Remove body hair – this is very much a personal choice, but you may feel more comfortable or confident shaving or removing hair from your body to prepare for summer. You certainly don't have to, but many people choose to. Use a shaving gel or cream to make it easier and more effective if you shave. We recommend our Refreshing Cucumber Shave Gel for summer, with aloe vera and hyaluronates to cool and refresh the skin.
Making Sustainable Choices
Throughout the year, we should look to improve the world around us and cultivate an environment that nature exists in. Not only do we co-exist with the natural world, but it also brings us so many health and wellness benefits that disrupting the balance of this delicate ecosystem doesn't make sense.
The beauty industry can bring a lot of waste with it and isn't always mindful of the environment and world around it. You can make the commitment to change the way you use beauty products to consider this by seeking out products that are packaging using natural, recyclable materials. This is something that we strive to achieve across our entire business.
We also make small batches of our product by hand, thus reducing product wastage and reliance on synthetic preservatives and chemicals. Not only can these cause reactions in the skin, but they can also harm the environment.
Avoiding body exfoliation products that use microbeads is one way to reduce unnecessary plastic waste. Plastic does not biodegrade for thousands of years and has been found in every ocean on earth. Instead choose products that use natural alternatives, such as the natural bamboo used as a body exfoliator in our Energising Calendula Body Scrub.
Using products that contain ingredients obtained from sustainable sources is also extremely important. As a planet, everything exists as part of an ecosystem that relies on balance and products created with sustainability in mind aim to keep that balance in place. We choose to use natural and organic ingredients that are obtained from sustainable sources only.
Making ethical choices in the products we consume should happen all year round, and we want to make it easier for you to achieve this throughout your routine. Doing things differently, and making change isn't always easy but it's worth it for now and in the future.