Calendula: A powerfully gentle ingredient for your skin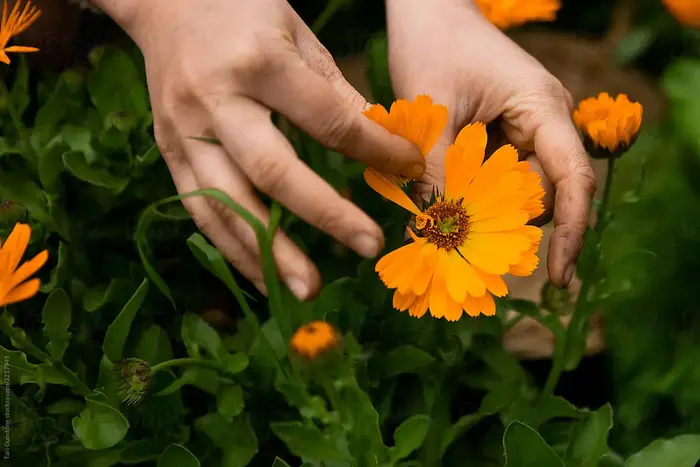 What is Calendula?
Calendula oil is a natural oil that's created from the flowers of the marigold plant (Latin name: Calendula officianalis, meaning 'little calendar', in case you ever need to decode a product label). It grows in the sun-soaked Mediterranean, with bright orange or gold flowers and a strong, refreshing scent.
It takes less than a year from seed to harvest and is usually gathered between January and March. This delicate plant is harvested by hand to keep its petals intact, then sorted by hand and dried in the sun. It's a truly natural product that isn't artificially processed or dried in any way, instead of harnessing sunlight to dry.
Once the marigold flowers have been picked, they are then infused into a carrier oil, which is then used as a base in many health and skincare products. Calendula extract can also be incorporated into creams and ointments with essential oils and ingredients such as beeswax.
What are the benefits of Calendula for your skin?
Calendula has so many benefits for the skin and body. For starters, it's antifungal, anti-inflammatory and antibacterial so can be helpful for comforting skin that's irritated or inflamed. This powerful plant-based oil is also great for hydration and firming your skin. Many people use it to soothe common skin conditions.
Calendula petals contain skin-nourishing compounds that provide antioxidant protection and reduce discomfort. It also promotes collagen production, which is essential for plump, hydrated and glowing skin. Calendula oil is often used in hydrating lip products as a result.
It's also used traditionally in Ayurvedic and traditional Chinese medicine, used in tea and eaten as a food, sometimes as a substitute for saffron which has a similar yellow hue. This bright yellow colour has even been used as a dye in fabric and foods. 
What does calendula do?
As an ingredient, calendula works hard. Here are just some of the things it can do for you and your skin:
Heals wounds – used in alternative medicine to heal bruises, blisters, cuts and insect bites, including wounds that are healing poorly.
Supports digestion and immune system – thought to have a protective effect on the stomach to improve digestion and repair the gut wall.
Hydrates and nourishes dry skin – as we've already mentioned, it's often used to soothe and nourish skin. It's often used for skin that's struggling with rashes and dryness, and is often used in baby products.
Slows development of wrinkles – the antioxidants and anti-inflammatory compounds that are contained in Calendula have been found to protect against oxidative stress, which causes the signs of ageing to speed up, in human skin cells.
Reduces scarring – calendula can promote healthy, infection-free healing and growth of healthy tissue. Its inflammation preventing properties are also great for looking after sore skin.
Why should you use calendula?
Calendula is an all-around skincare powerhouse, working to nourish, hydrate and protect your skin from the world around it. Damage to the skin often comes from the environment around us, so adding powerful antioxidants into your routine is a must to keep your skin protected. It's also gentle on the skin, meaning that you can usually benefit from calendula without worrying about a reaction.
Another great reason to use calendula is that it's in plentiful supply, so isn't causing scarcity by its use in the beauty industry. It's a plant that's relatively easy to grow and care for, which makes it a low-maintenance option for growers. This means that calendula is sustainable and thriving.
How to add Calendula to your skincare routine
The easiest ways to add calendula into your skin and body routine is to look for products that are made using calendula oil or extract. Our Cultivate Collection is inspired by Spring and filled with protective bioflavonoids, including calendula. The entire collection is made from 100% natural and vegan ingredients too.
Take a look at our curated product recommendations to get a boost of calendula into your own routine and the routine of those you love:
For little (and not-so-little) ones, our Soothing Aloe Baby and Up Bath + Shampoo and the Softening Aloe Vera Kids' and Up Bath + Conditioner are perfect for harnessing the hydrating and protective benefits of calendula for younger, delicate skin and hair. It's important to use nourishing and gentle products on younger skin.
Calendula: A powerfully gentle ingredient for your skin
Calendula perfectly combines power and effectiveness with nourishment and gentleness, for a routine that benefits and works with your skin, helps to protect it and reduces inflammation and irritation.
When it comes to comfort and soothing tired skin, harsh products and stripping ingredients are a definite no. Your skin – especially if it's delicate or needs care – is something that should be supported rather than battled.
Calendula is one way to add a nutritional powerhouse ingredient into your beauty rituals without damaging or stressing your skin out. Nature often provides us with the right solutions to help our natural skin, hair and body.