Free shipping for orders above €25 within Germany and €75 within EU
Login
Log in if you have an account
Register
Having an account with us will allow you to check out faster in the future, store multiple addresses, view and track your orders in your account, and more.
Create an account
FAQs
Frequently Asked Questions
We've put together some commonly asked questions to give you more information about brewing Beauty Co and the products we offer. If you have a question that you can't find the answer to, please use the contact us page.

NOTE: Clicking on the question will reveal the answer.
General
Where are you based?
We are in a lovely old town square named Hackescher Markt ("Hacke's Market") in the central Mitte locality of Berlin, Germany.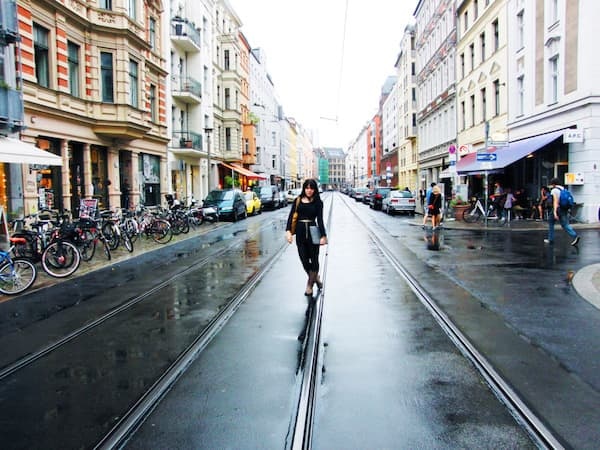 Where are your products made?
We can proudly say that all our products are made and packaged in our manufactory store located in Berlin.

We believe that a truly remarkable customer experience is no different than a stage production, where the cast, crew, set design, and tech come together to bring every line, scene and act to life. With this belief, a Shop-in-Factory business concept was created, where stores are treated as a theatrical stage, where every aspect of the company script is meticulously directed, rehearsed, and performed. One of the ways in which our retail experience is unlike any other brand in the industry is that the majority of the products are made on-site, offering consumers full transparency.
What makes your brand and your products unique?
We make only 100% natural products, using only 100% natural raw materials and ingredients, sourced locally where possible, or from throughout Germany and Europe. To meet this stringent criterion, the exclusive use of all-natural, high-quality raw materials – never artificial ingredients or fillers devoid of advantages for the skin— puts the material focus on trending green attributes like Eco-friendly, Sustainable, and All-natural. However, we don't believe this is enough to make a difference. Therefore, a large portion of our focus has been also on what makes us unique beyond our green values. Not only are our products help sustain the environment, but also we are a wholly self-sustainable brand.
What kind of packaging do you use for your products?
Sustainability and caring for the environment are matters that are very close to our heart. It just wouldn't make sense for us to put our organic and natural products into packaging that didn't reflect our brand philosophy and values.

The majority of our packaging is naturally derived from nature and includes glass, paper and aluminium. As a highly recyclable material, glass can be used time and time again and was always the perfect choice for our brand. It is also the ideal choice for our customers who are just as passionate as we are about protecting the planet.
Is your production also sustainable?
We are also very conscientious about preventing unnecessary waste caused by overproduction of our products. Each of our natural products is made with carefully sourced organic ingredients. Because they don't have any synthetic preservatives or chemicals, it means they have a shorter shelflife than products that do. For this reason, we use very precise production processes that are aligned with consumer demand.

In a world where unnecessary waste, overproduction and plastic packaging can cause so much damage, we feel it is our responsibility to offer sustainable alternatives that support, protect and nurture our environment. For our customers, it means they can look and feel their best while knowing the products they are using are natural and sustainable.
What do you do with the returned empty containers?
Unless it is damaged or cracked, we reuse the returned containers. We believe reusing is better than recycling because it saves the energy that comes with having to dismantle and re-manufacture containers. It also significantly reduces waste and pollution because it reduces the need for raw materials, saving both forests and water supplies. In times when resources were valued and energy didn't come as easily, items were made to be reused again and again. At Brewing Beauty Co, we sincerely care for the planet, and therefore, we believe that we needed to get back to reusing. And, when items can't be reused as cosmetics containers, we find ways to repurpose them, like using them as candle or reed diffuser bottles. For us, recycling is the last option, just before the trash. When we cannot reuse or repurpose, you can also rest assured that we properly recycle according to recycling guidelines and regulations.

When we receive a reusable container, we carefully clean, disinfect and sterilise it before storing for future use. First, we inspect the container for any visible damages and residues from leftovers then we hand wash each container separately, and then effectively clean both organic and inorganic residues from even the deepest nooks and crannies in containers using an ultrasonic cleaner. After cleaning and disinfecting the item, we sterilise it by using pressure steaming. Finally, we let it dry and store in a sterilised container.
How do you make your products?
All of our products are scientifically formulated in our own R&D lab, tested, and assessed in compliance with the ISO 22716, and are produced in our manufactory store location on a regular basis, in accordance with the EU Good Manufacturing Practices (GMP) (GMP).
What does "Transparency" mean to you?
Transparency is honesty. In the case of beauty or wellness, it's providing the full disclosure on processes and ingredients to customers in a way that's clear. We foresee a day when the harmful practices of our industry are rejected by an informed public. We encourage you to read our product labels. The more you know about the ingredients, the better you will appreciate our products. We value transparency as our greatest commitment to our consumers. We refrain from hyperbole and make no false claims. We don't just talk about it, but we also show you everything. We have such confidence in the quality and effectiveness of our natural ingredients, that we create our products every day in our own stores, before your eyes.
Product
How are Brewing Beauty Co products preserved?
Brewing Beauty Co. products are free from any synthetic preservatives and instead they are preserved through careful selection of the purest raw materials, essential oils, vitamins, natural alcohol in a sterile production environment. Every batch is tested for contamination, yeast and mould growth before release and is good for up to almost 9 months. Since the shelf life of our products is shorter than other commercially produced products, we produce them in small batches.
How long can my products be kept?
Since we only use natural preservatives in our products, they have a shorter shelf life in comparison to mainstream products you see in the drug stores and beauty parlours. The shelf life of our products vary based on the ingredients we use in them, but in general, the maximum shelf life of our products is around 9 months. Each of our products has its own batch number and expiration date on it. 

Please store your products in a cool, dry and dark environment.
How does Brewing Beauty Co define "Clean Beauty"?
When a product claims to be "clean," its ingredients should be nontoxic and considered safe to use. As with food, fresh is best. And as with food, it's not only about what we put in, but also what we leave out: more than several thousands of questionable ingredients, including known potential carcinogens used in processing, photoallergic compounds, endocrine disruptors and non-biodegradables. Commonly listed on labels in mainstream cosmetics, the science behind many of these is opaque at best. We don't trust these ingredients, and we have worked hard to make sure we don't need to use them. There are better ways, we've discovered. To find more about our "Free From" list of ingredients, please check our "NO List" wall here.
Does Brewing Beauty Co have products that are specifically made for sensitive skin?
We designed and formulated our "Calibrate" collection for sensitive skin and related problems. This collection forms a baseline for skin health, as the go-to heroes that protect and nourish any time of day or night, any time of year. Calming pre + probiotic peptides, anti-inflammatory wild indigo extract, and active ingredients like oat lipids and liquorice mean that our Calibrate range is geared for top-down microbiome care. Soothing sensitivity, reducing redness and nourishing needy skin, this line repairs and restores – just as nature intended.
Why did Brewing Beauty Co choose to work with seasons when formulating its products?
Working with the seasons is one of our founding principles, because we understand and respect the ebb and flow and cyclical nature of the world we live in. Just as the earth spins and circles the sun, as the leaves change and our skin renews itself, nature's bounty provides the balance our bodies need for each season - the right nutrient at the right time. This symbiotic relationship between people and planet inspires everything we do.
How does Brewing Beauty Co organize its products in collections?
Skin is alive, and that's how we care for it. Skin moves with the seasons, and that's how we structure our collections. Each stage is calibrated to redress an imbalance, while Calibrate collection can be used year-round to promote skin's own regenerative power. Using science in combination with nature's finest creations, we marry beauty and biology.
What are Phytonutrients?
Phytonutrients are chemicals produced by plants. Colourful fruits and vegetables can paint a beautiful picture of health because they contain phytonutrients, compounds that give plants their rich colours, their distinctive tastes and aromas and keep them healthy. These chemicals help protect plants from germs, fungi, bugs, and other threats and it's becoming apparent that many of these benefits can be applied to human health too. More than 25,000 phytonutrients are found in plants.

Brewing Beauty Co. incorporates these five phytonutrient compounds into their formulations to provide a range of therapeutic actions like increasing skin cell turnover and helping to address disorders such as psoriasis, acne and photoaging:

• Carotenoids: It's from carotenoids that fruits like sea buckthorn, pumpkins and carrots take their beautiful red and orange colours. Carotenoids are vitamin A derivatives which are highly effective antioxidants and have been documented to possess photoprotective properties. Converting to vitamin A (retinol) in our bodies, our carotenoids make health and beauty one and the same.

• Bioflavonoids: Bioflavonoids are found in any fruit, vegetable or flower that contains vitamin C. While Vitamin C provides a range of benefits, evening out skin tone, shielding from pollution, improving hydration and stimulating collagen production, lesser-known bioflavonoids are required for the absorption of vitamin C. Bioflavonoids are powerfully antibacterial and possess formidable antioxidant properties too.

• Anthocyanins: Characterised by their distinctive purple, red and blue hues, anthocyanins are part of the anti-oxidant flavonoid family. Fighting the effects of ageing and oxidative stress, Anthocyanins are famed for their protective properties, from pollution to sun damage. The example source plants are Blackberry, cherry, orange, purple corn, raspberry, and red grapes with potential anti-allergic, anti-inflammatory, anti-oxidants, and anti-pigment benefits.

• Chlorophylls: Chlorophyll, which gives leaves their green colour, is the natural solution for burns and inflammation. Its natural alkaline anti-microbial and anti-inflammatory properties help to cool and soothe summer skin. Given its antioxidant power and the presence of magnesium, chlorophyll supports in maintaining healthy tissue, stimulates anti-ageing enzymes, and reduces local inflammation.

• Pre/Probiotics: Used in combination, pre and probiotics can have an outstanding effect on skin's surface protection. Working to support the skin's natural biome means it has the best chance of offsetting human and environmental factors causing redness, dryness or irritation – improving skin texture and strength, minimising fine lines, and restoring radiance.
Account
Why do I have to create an account?
First of all, you don't have to create an account, but creating an account does have many advantages:

• with an account, you can review your placed orders online.
• with an account, your details are already entered after logging in and you do not have to enter everything again.
•with an account, you can take advantage of extra discount promotions when available.

So it benefits you to create an account. And of course, all your data is always stored securely and is never shared with third parties.
How do I create an account?
Creating an account is very easy.

• Tick the option that you would like to create an account during the check-out, or Click on "Login/Register" in the top right of brewingbeauty.co.
• Under the login details, you will see the option to create a new account if you do not have one yet.

Follow the steps and your account is created!
I forgot my password. What should I do?
Forgetting is human. Fortunately, you can always request a new password. In the webshop, click on "Login / Register" at the top right and click on "Forgotten password". Enter your e-mail address with which you registered and we will immediately email you a link to set a new password.
Can I also order without creating an account?
Yes, of course, you can order without creating an account. You can indicate in the ordering process whether you want to order without an account as a guest.
How can I sign up for the Brewing Beauty Co. newsletter?
That is very easy! At the bottom right of our website, you can enter your e-mail address, which will sign up for our newsletter.
Payments
What payment methods do you accept?
You can complete your order securely using the following payment methods:

• Post-payment: (Klarna);
• Credit card (Visa or Mastercard);
• Debit card (Maestro);
• PayPal;
• Sofort;
• Giropay;
I made a mistake. Can I change my order?
We strive to process orders as quickly as possible. But we will try to accommodate any order change. The quickest way to get a hold of us is by emailing us at [email protected]. Please be sure to include your order number and to let us know what changes need to be made. We will be sure to let you know, as quickly as possible, whether we were able to make the wanted changes.
Do you have any discount codes available?
As part of our greater Sustainability Scheme, you can bring an empty metal or glass container back to our store so that it can be cleaned, sterilized and reused as a packaging container, and you'll be entitled to a voucher that will give you 10 per cent off your in-store spend that day. You can read more about our sustainability scheme here.

It is not a discount, but if you do love your Brewing Beauty shopping bag as we do, you can bring it back to our store for a replacement of the same size if your bag is ever worn or torn, we will exchange it free of charge, no proof of purchase needed, no questions asked.
I never received a confirmation email. What should I do?
If you haven't received an order confirmation email, it is likely the result of one or two things:

• Your order was never actually placed and processed.
• You have entered an incorrect email address with your order If you are certain that the email address linked to your order is correct, please check the spam folder in your mailing client for your order confirmation.

In the event that you still cannot locate an order confirmation, please email or call our customer service department: Email: [email protected]
Is post-payment possible?
Post-payment is possible with Klarna, this allows you to easily order and pay up to 14 days later. The easy option allowing you to pay when it suits you. If you return (part of) your order to us within the payment term, your invoice will be automatically adjusted.

Tip: for some questions, it's best to contact Klarna directly. For example, if Klarna does not accept your data or when you want to postpone your payment.
Where can I find my invoice?
We send your invoice digitally. After placing your order, you will receive a confirmation with an overview of your order. We will send the invoice digitally when the parcel is on its way, which can be found in the e-mail with your track & trace code.

There is no packing slip or invoice in your package. This is so you can confidently place an online order to surprise someone with our products.
Shipping
How long will it take for my order to get to me?
My package hasn't arrived yet! What can I do?
When your order ships you will receive a separate email providing you with a tracking number to track your order. Sometimes this email gets sorted into spam or promotions folders so be sure to take a look in there if it feels like you have been waiting a little too long. You can also log into your account and click on the order in question to see the status.
Do you ship internationally?
How do you ship my order?
Within Germany, your order will be sent with DHL. And it usually takes a few working days for it to arrive. Often, orders are delivered on Saturdays too, if the delivery is scheduled at residential addresses.
How can I follow my order?
After you have placed your order, you will receive an order confirmation via an e-mail. After we dispatch and send your order, you will receive a shipping confirmation e-mail with a 'track & trace' code, by using which you can track the shipment.
Refunds
Can I return my purchase?
Thank you for your purchase. We hope you are happy with your purchase. However, if you are not completely satisfied with your purchase for any reason, you may return it to us within 14 days of the purchase date. Please read our cancellation policy for more details.
How do I return an item?
Without prejudice to your statutory rights, we will provide you with free return labels for your return within Germany. Please click on the link below to access the free return label. The link should direct you to DHL, our reliable shipping partner.

Free online return label

Carefully enter your order number and address information, and then click on the "Submit" button. Once submitted, you will immediately receive an email with an access link to your return label. Click on the link and print out the return label.

Lastly, stick the return label you have printed out on the package and deliver it to a DHL branch or packing station.

Hand-delivered returns to our store are also accepted if you are nearby.
When do I get my refund?
As soon as your return has been received by us, we will do our best to process it as quickly as possible, but no later than 14 days. If you have withdrawn the agreement and have returned the ordered items, you will receive the purchase amount back from us within 5 working days, but often within 24 hours after receipt and processing of your return shipment. We will pay you back with the same payment method on which you originally placed your order. How soon the money will be in your account after that depends on your payment method. This can take another 3 to 5 working days. If you return your purchase to our store, the refund will then be made on the following working day in the same way as we received the payment.

When you return the item in a new and unused condition, you will receive back the purchase amount including any shipping costs. If you keep part of the order, we will deduct the shipping costs of € 4.95 from the amount to be transferred.

In case you haven't received your refund after you are approved, recheck your bank account. Afterwards, contact the credit card company because sometimes it takes time for the refund to be posted officially. If you have done all this but still haven't received your refund yet, please contact us at [email protected]
Can I exchange a product for another one?
We are sorry but we don't accept exchanges, but feel free to return your product if you are not satisfied with it. Please read our return policy for more details.
Can I return a discounted product?
Yes, no problem. If you have bought the product from us using our online store, you can simply return it, discounted or not.